April 2-5, 2009
Northwestern University, Evanston, IL
Co-Organizers
Keith Topper, University of California, Irvine
Dilip Gaonkar, Northwestern University
Co-sponsored by
Northwestern University's Center for Global Culture Communication
the International Conference for the Study of Political Thought
Download the Conference Schedule
Download the Conference Brochure
Download the Conference Poster
CSPT members, log in to view 2009 conference papers.
Description
This conference brings together distinguished and emerging scholars in political theory, philosophy, communication, literature, history, and other areas of the social sciences and humanities who share an interest in the rhetorical character of political thought and discourse. Our discussions will focus on a wide range of issues regarding the pivotal function of rhetoric in the history of political thought and contemporary political theory. These include, but are not limited to, questions about the performative dimensions of language, the role of affect and emotion in political life, the poetics and aesthetics of political discourse and experience, the rhetorical structure of political texts, the relationship between the logic and style of political argument, between author and audience, and between what political texts say and what they do. To provide our inquiries with historical scope and interpretive depth, each of our nineteen speakers will focus on a single key figure in the history of social and political theory, from Thucydides and Plato to Hannah Arendt and Frantz Fanon. Our goal is to make the case that an understanding of rhetoric is not just relevant but central to an understanding of political thought and conduct.
We hope this event will appeal to scholars of political thought and rhetoric across North America and beyond it borders. To facilitate discussion, papers will be circulated among all participants two weeks prior to the conference and will be available to Conference for the Study of Political Thought members. The event is free and open to the public. Scholars planning to attend the 2009 Annual Meeting of the Midwest Political Science Association should note that the Evanston campus of Northwestern University is easily accessible via public transportation from downtown Chicago. Using the "L," take the Red Line north to the Howard Street station. From the platform on which you exit the train, transfer to the Purple Line going toward Linden and get off at the Davis Street exit. Proceed east on Davis Street until you reach Chicago Avenue. Turn left on Chicago Avenue until you reach Sheridan Road, which borders Northwestern University. "L" maps can be accessed online by clicking here.
2010 Spitz Prize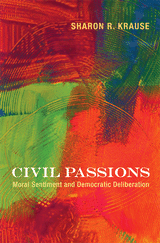 Sharon Krause
Civil Passions
Princeton University Press, 2008
The David and Elaine Spitz Prize
Recent Reviews


Augustine and Politics as Longing in the World
John von Heyking
University of Missouri Press, 2001