Democracy's Midwife: An Education in Deliberation. Jack Crittenden (ASU). Lexington Press, 2002.
The book combines a thorough examination of the theoretical underpinnings of democratic education with radical solutions for the overhaul of civic education. It is thus both a denunciation of an education system that has failed to prepare future citizens for participation in public life and a blueprint for the creation of a civic-minded electorate prepared for the responsibility of self-government.
Augustine and Politics as Longing in the World. John von Heyking. University of Missouri Press, 2001.
Contrary to most interpreters, John von Heyking shows how Augustine considered political life as a substantive good that fulfills a human longing for a kind of wholeness. Rather than showing Augustine as supporting the Christian church's domination of politics, he argues that he held a subtler view of the relationship between religion and politics, one that preserves the independence of political life. This is a revised version of John von Heyking's Ph.D. dissertation, which was nominated for the APSA Leo Strauss Prize for Best Political Theory Dissertation.
Innocent Civilians: the Morality of Killing in War. Colm McKeogh (Waikato). Palgrave, March 2002.
This work traces the evolution of the principle of non-combatant immunity in Western thought from its medieval religious origins to its modern legal status. In doing so it explains why the concern to minimize civilian casualties is solidly based in Western civilization's most fundamental principles of justice.
Mill on Democracy: From the Athenian Polis to Representative Government. Nadia Urbinati (Columbia University). U. of Chicago Press, 2002.
This book redirects scholars' attention to John Stuart Mill's theory of government and uses his political thought to uphold an agonistic view of deliberation. It assesses Mill's contribution to modern democratic theory and the theory of political liberty, and provides a critique of the dominant narrative of the "two liberties" that has shaped Mill scholarship over the last several decades. To corroborate this interpretation, Urbinati situates Mill's theory of government within the debate over the "liberty of the ancients" and the "liberty of the moderns" that took place in the first half of the nineteenth century. Indeed the theory of the "two liberties" was forged during this debate as a tool to criticize the legitimacy of democracy and to contain its reach. Mill rejected this theory, and saw the government of the moderns as a metamorphosis of the three most unique features of the Athenian polis: the deliberative character of its institutions and politics; the Socratic ethos; and the cooperative implications of political agonism and dissent.
Conscience and Its Critics: Protestant Conscience, Enlightenment Reason and Modern Subjectivity. Edward Andrew (Toronto ). University of Toronto Press.
This book concerns itself with how the Enlightenment put the boot to "the god within" in the wake of the English civil war and replaced it with public opinion-the policing of conduct by social approbation or disapprobation-until the romantic and egalitarian reaction to the hierarchic sociability and prudential calculation-conscienceless reason-reinstated conscience within moral discourse for secular theorists to consider.
The History of Political Thought in National Context. Dario Castiglione, Iain Hampsher-Monk (Cambridge). Cambridge University Press, July 2001
In this volume a distinguished international team of contributors characterises the nature of, and recent developments in, the history of political thought in their respective countries. The essays scrutinise not only the different academic histories and methodological traditions on which the study of the history of political thought has drawn, but also its relationship to cultural and political debates within nations. This collection represents a major contribution to the history of ideas, in which political thought has always been central, whilst reflecting the disciplinary tensions - and national differences - of what remains a "borderline" subject, located at the intersection of history, politics and philosophy. The different national characteristics taken on by political discourse, and the complex relationship these characteristics have to the aspirations of the discipline itself, are considered in these wide-ranging essays, which cover the history of political thought in the UK, the USA, France, Germany, Italy, Central and Eastern Europe. Contributors are Dario Castiglione, Iain Hampsher-Monk, Janet Coleman, Wolfgang Mommsen, Melvin Richter, Angelo D'orsi, Terry Ball, Robert Wokler, Iain Hampsher-Monk, Quentin Skinner, Jeremy Jennings, Victor Neumann, Malachi Hacohen, Stefan Collini.
Citizenship and Governance in the European Union. Richard Bellamy and Alex Warleigh (eds). Continuum: 2001
Trust project on European Citizenship, based at the University of Reading. It combines empirical and normative analysis to explore the political, legal, economic and social dimensions of this new status. The authors argue that EU citizenship involves more than the rights granted by the Treaties. Far more crucially, it is an aspect of the policies and institutions of the Union and the ways they engage (or frequently fail to engage) with the general public.
Political Theory and Contemporary Politics, Volumes I and II. Edited by Richard Bellamy (Reading), Jeremy Jennings (Birmingham) and Paul Kelly (LSE). Continuum (London and New York), 2001
The individual titles are Richard Vernon, Political Morality: A Theory of Liberal Democracy and Fiona MacKay, Love and Politics: Woman Politicians and the Ethics of Care. Two further volumes are in production and will appear early in the new year, George Crowder, Liberalism and Value Pluralism and Danilo Zolo War, Law and Global Order. A further three volumes have thus far been commissioned. Proposals for new books are welcomed, and prospective authors should contact either one or more of the editors.
Freedom of Association. Amy Gutmann (Princeton). Princeton U P.
Americans are joiners. They are members of associations and organizations of all sorts. Social scientists are engaged in a lively argument about whether a decreasing proportion of Americans over the past several decades has been joining secondary associations, but no one disputes that freedom of association remains a fundamental personal and political value in the United States. Yet the value and limits of free association in the United States have not received the attention they deserve. Why is freedom of association valuable for the lives of individuals? What does it contribute to the life of a liberal democracy? This volume explores the individual and civic values of associational freedom in a liberal democracy, as well as the moral and constitutional limits of claims to associational freedom. The volume includes essays by Amy Gutmann, Goerge Kateb, Michael Walzer, Kent Greenwalt, Nancy Rosenblum, Will Kymlicka, Yael Tamir, Daniel A. Bell, Sam Fleischacker, Alan Ryan, and Stuart White.
Civil Society and International Development. Edited by Amanda Bernard, Henny Helmich, Percy B. Lehning (Erasmus)
Active civil societies are central to the evolution of participatory and transparent systems of government, which are essential not only for economic development, but because the participation of citizens in the definition of their role in society and in the choices affecting the future of their society is an important objective itself. This volume contains contributions that discuss the political theoretical problems of civil society, social capital, and democratic citizenship, contributions that elaborate on the role NGOs can play in strengthening civil society, as well as contributions that analyze civil society from the perspective of developing regions.
Practices and Principles: Approaches to Ethical and Legal Judgement. Mark Tunick (Stanford). Princeton U P.
A Japanese Woman living in California attempts parent-child suicide, an ancient Japanese custom called "oyako-shinju," in order to rid herself of shame upon learning that her husband has a mistress. She survives, but her two children drowned in the attempt. Since her attempt was made in accordance with the standards of Japanese culture, should she be tried by the standards and laws of the United States? Are there universally valid moral principles that dictate what is right? Or are moral judgements culturally relative, ultimately dictated by conventions and practices that vary among societies? Practices and Principles takes up the debate between universalists and relativists, and, in political philosophy, between communitarians and liberals, each of which has roots in an earlier debate between Kant and Hegel.
Gandhi: Struggling for Autonomy. Ronald J. Terchek (Maryland at College Park). Rowman and Littlefield.
Using the principle of individual autonomy - rather than civil disobedience, Indian independence, or duty, this book looks at Gandhi's commitment to the equal respect and regard of all persons. The book also shows how Gandhi's thought illuminates several critical discourses in political theory today, such as those addressing tradition, modernity, modernization and democratization. In the process, the study presents Gandhi as an antiperfectionist who seeks to resist efforts to homogenize and globalize any particular morality, politics, or economic arrangement.
The English Levellers. Andrew Sharp (Auckland). Cambridge Texts in the History of Political Thought, Cambridge University Press.
This collection of thirteen fully annotated Leveller writings, mainly by John Lilburne, William Walwyn and Richard Overton, including their famous "Agreements of the People", is important as a contribution not only to the understanding of the English civil wars, but also of democratic theory. The editor's introduction sets the Leveller ideas in their context. The book includes a chronology, short biographies of the leading figures and a guide to further reading.
Membership and Morals: The Personal Uses of Pluralism in America. Nancy L. Rosenblum (Brown). Princeton U P
In recent years, membership has dropped in traditional voluntary associations such as Rotary Clubs, Jaycees, and bowling leagues. At the same time, concern is rising about the growth of paramilitary and hate groups. Scholars have warned that these trends are undermining civic society by creating a dangerous number of isolated, mistrustful individuals and organized, anti-social renegades. This book takes a new, less narrowly political approach to the study of groups, and reaches more optimistic conclusions about the state of civil society.
Modern Liberty and Its Discontents. Pierre Manent. Edited and Translated by Daniel J. Mahoney and Paul Seaton. Rowman and Littlefield
In this book, Pierre Manent addresses a wide range of subjects, including the Machiavellian origins of modernity, Tocqueville's analysis of democracy, the political role of Christianity, the nature of totalitarianism, and the future of the nation-state. As a whole, the book constitutes a meditation on the nature of modern freedom and the permanent discontents which accompany it. Manent is particularly concerned with the effects of modern democracy on the maintenance and sustenance of substantial human ties.
Between Tradition and Modernity: India's Search for Identity. Fred Dallmayr (Notre Dame) and Ganesh Devy. SAGE India.
The book documents the search of Indian intellectuals, politicians, and writers to forge an "identity" in the 20th century and thereby to gain a balance between the roots of their traditions and the onslaught of modernity. It focuses on the existential dimension of the encounter between India and the West and on modernity's role as a catalyst in India's process of self-scrutiny and search for self-rule. The first part of the book brings together major voices in India's struggle against colonialism, while the second part presents interpretive essays by intellectuals across various disciplines.
Alternative Visions: Paths in the Global Village. Fred Dallmayr (Notre Dame). Rowman and Littlefield.
Globalization is often seen as a process of universal standardization under the auspices of market economics, technology and hegemonic power. Distancing itself from the universalism/particularism conundrum and also from a predicted "clash of civilizations", the book charts a "grassroots" approach to globalization which relies on sedimented traditions and vernacular beliefs as gateways to cross-cultural learning and transformation. The book explores hitherto sidestepped or underprivileged "alternative visions", especially alternatives to hegemonic domination and parochial fragmentation. Among the thinkers examined are Herder, Adorno, Gandhi, Ali Shari'ati, and Amilcar Cabral.
2010 Spitz Prize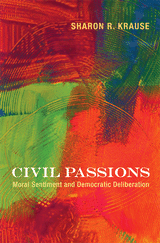 Sharon Krause
Civil Passions
Princeton University Press, 2008
The David and Elaine Spitz Prize
Recent Reviews


Augustine and Politics as Longing in the World
John von Heyking
University of Missouri Press, 2001